HAVE ME TALK AT YOUR EVENT
JOIN A PANEL, OR RUN A WORKSHOP
EMAIL ME: chris@christt.com
A barnstorming Pecha Kucha talk by Chris T-T about the power of Twitter, #IAmSpartacus & how the social web is changing music. A great talk: perfect Pecha Kucha timing. Endearing, funny, passionate & informative. Bang on.
Honor Harger, The Lighthouse / Brighton Digital Festival curator
Chris shared his collection of photographs of toilets from around the world with the Boring audience. A lovely talk.
James Ward, Boring 2011 curator
Recently I've spoken at TEDxBrighton 2012, AIM Music Connect 2013, Great Escape Conference 2011-2013, Boring Conference 2011, Brighton Digital Festival, University College Falmouth, The Victoria & Albert Museum of Childhood, Norwich Sound & Vision Conference, Interrogate! at Dartington Hall and many others.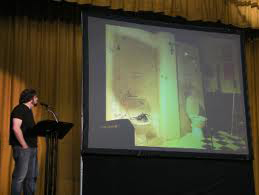 Chris T-T's disarmingly open way of working allowed our young musicians to learn an enormous amount in just a single day's songwriting workshop. The amount of practical experience both as creative performer and in terms of industry insight that Chris is able to share with students is remarkable. In these times of tight education budgets there are few workshop providers as valuable for students as Chris.
Alistair Fitchett, Assistant Head, Kingsmead School Tiverton
Chris' workshop was inspiring. He gave valuable insights and advice on how to get music into the public domain and different approaches to songwriting. Chris is an engaging and approachable leader and students were 100% focused from beginning to end.
Claire Creer, Head of Music, St Ninian's High School, Douglas
co-founder: Isle of Man Rock Academy
One of the best sessions for our students last year was with Chris T-T. His rapport with the students was immediate and a joy to behold. The wisdom he brought to the table helped them immensely in the project that they were undertaking which included the writing and recording of a new song. I will definitely be inviting Chris back.
Rick Rogers, Senior Lecturer, University College Falmouth
Workshops are often the most inspiring fun I have in my career, so I'm always glad to lead songwriting sessions, or talk to groups about music-making, touring life, or the business management side of my work.
I'm happy in schools, universities, summer academies, or with informal groups; with adults or kids of any age and ability range. Workshops are tailored to suit your needs.
I have developed full courses in Basic Songwriting, Protest Songs and Social Media & Music but these are just starting points: your ideas are key.
EMAIL ME: chris@christt.com