I've made a new LOO PRINT which is on sale now in the shop and has sold about 33% already. Last year's print was scarily successful and this one's even slightly better – I'm well proud of this. It's the same format, an A3 card digi-print showing my 72 favourite loos from #loo2011.
Just as last year, the new print is on uncoated 300gsm card in a signed, hand-numbered limited edition of 253. It's slightly brighter coloured than last year – I guess I just found brighter loos through the year. And this time it also comes with an A4 printed b/w sheet identifying each loo – much more fun when you know where they are. Buy it in the shop now for £20 (including postage and packaging), while stocks last.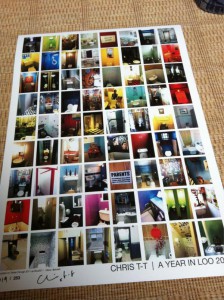 Meanwhile #loo2012 is picking up speed. I'm very pleased that recently I finally photographed Gypo and Jo's loo in Port St Mary on the Isle Of Man, because that was the original inspiration for the loos. I'll publish a whole series of photographs from that one loo next month.