I'm well chuffed to announce that to mark my 20th anniversary making music as Chris T-T, Xtra Mile Recordings will release a Best Of Chris T-T double album on 19th May – and pre-orders are live now…
You can now pre-order your copy of Best Of Chris T-T from Xtra Mile Recordings and/or iTunes. If you're thinking of buying it, please consider doing this today, so the team at Xtra Mile gets a sense of how popular (or not!) it's going to be. The Best Of features 39 songs (full tracklisting below) and it looks like this: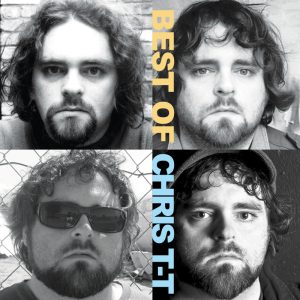 I'm also doing a short run of UK concerts to sing Best Of songs, including some I haven't had in my set for a long time (click on the link for ticket details):
Sun 16 April CARDIFF Wales Goes Pop!
Fri 28 April TROWBRIDGE Town Hall Arts
Sat 29 April WARWICK The Wild Boar
Sun 30 April BARNSLEY May Day Festival Of Solidarity
Fri 5 May LEEDS All Hallows Church
Sat 6 May MANCHESTER Anthony Burgess Centre
Fri 12 May ABERDEEN The Lemon Tree
Fri 19 May CAMBRIDGE Unitarian Church
Sat 20 May BRISTOL Café Kino
Tue 23 May BRIGHTON Komedia
Here's the full tracklisting:
DISC #1
01 Dreaming Of Injured Popstars
02 Ownership
03 The English Earth
04 Shit From All Angles
05 You Can Be Flirty
06 Sellotape (Dawson's Creek)
07 Drink Beer
08 Eminem Is Gay
09 7 Hearts
10 Giraffes #1
11 The Huntsman Comes A-Marchin'
12 Preaching To The Converted
13 (We Are) The King Of England
14 A Box To Hide In
15 Market Square
16 Elephant In The Room
17 The Bear
18 Gulls
19 Love Me, I'm A Liberal (band version)
DISC #2
01 The Idris Lung (1997 version)
02 Cutler (7″ version)
03 A Hole Full Of Submarines (band version)
04 Tendon #3
05 What If My Heart Never Heals? (Fierce Panda 7″ version)
06 Tomorrow Morning (R*E*P*E*A*T Records 7″ version)
07 N253 (band version)
08 Decksweep
09 The Headcold Bit Of The Winter
10 100,000 Turkeys
11 Bored Of The War
12 You Can't Stop The Machine
13 Back In The U.S.S.R.
14 In The Dressing Room
15 A-Z (Xtra Mile High Club piano version)
16 Nintendo (piano version)
17 Words Fail Me (acoustic version)
18 The Outer Darkness Theme (with Gill Sandell)
19 Dancing On My Own
20 31 Pills (band version)
Pre-order your double CD Best Of today from Xtra Mile Recordings and/or iTunes. Thank you kindly.