For years, one of my favourite songwriting anecdotes has been this story, about Fergal Sharkey's two big 1980s hits. It goes like this: Sharkey's massive solo smash 'A Good Heart' was written by Maria McKee (legendary Lone Justice singer and solo star) about Benmont Tench (equally legendary genius keys man in Tom Petty's Heartbreakers). Then Sharkey's follow-up hit, 'You Little Thief' was written by Tench in response to McKee, so Sharkey turned into smash hits these two songs that are actually a conversation.
I love that anecdote, I re-tell it whenever any of those people gets even the briefest mention. There's magic in two passionate, both lyrically superbly crafted songs, attacking the depth and detail of a clearly doomed love affair from different angles, then the material getting discovered and 'curated' into the pair they're meant to be, by an entirely different artist.
Sometimes I add Deacon Blue into the mix, who wrote 'Real Gone Kid' about McKee, making her the muse of two very different classic 1980s hits.
Anyway, sadly the other night I discovered it's a myth. I retold it to a friend on Twitter when she mentioned 'A Good Heart' and – yes you know where this is going, only in social media – Mr Tench himself popped into the conversation to debunk the myth. He did write 'You Little Thief', it's just (he's saying) it's not about Maria McKee. He didn't explain whether McKee's 'A Good Heart' is about him – but then he's probably the wrong person to ask about that.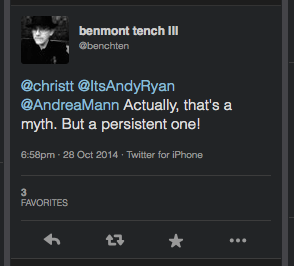 Twitter, eh. It was well gutting that the story isn't true. At the same time it was well ace to get it from the horse's mouth, especially from a guy who has informed my whole life as a keyboard player, on a par with Bittan and Federici. I didn't make it up, by the way, it's the 'established version'. I was tempted to reply "but it's on Wikipedia, it's MUST be true," to the actual person who'd know.
Anyway, that only leaves Evan Dando's 'It's About Time' versus Julianna Hatfield's 'For The Birds', where he's trying to persuade her to have sex with him. I hope that pairing doesn't get debunked but if it does, I hope it's Julianna who tweets in.