Yay, it's that time again. Here are all my favourite things of the year. Some sections were published a few days ago as part of Team Jim Bob's annual review – and I've expanded those here, so there's a lot to dig into…
ALBUMS
Another huge year for great records. It's a relief to me that, like with paper books, even as the album form becomes a technological anachronism, still makers gonna make. Thank god. I'm not surprised more folk music has seeped onto this list, since I'm getting sent loads of it for the radio show. But for me a major curveball came late in the year, when I unexpectedly fell in love with Lin-Manuel Miranda's astounding hip hop musical Hamilton, which I'll probably never get to see live (it's a smash on Broadway right now). Now I'm dying to write a musical. I would never, ever have imagined musical theatre in my Top 10, let alone sitting at #1. But there it is…
1. Hamilton: Original Broadway Cast Recording (Hamilton Uptown)
2. Stick In The Wheel – From Here (self-release)
3. Esme Patterson – Woman To Woman (Xtra Mile Recordings)
4. Grasscut – Everyone Was A Bird (Lo Recordings)
5. Laura Marling – Short Movie (Director's Cut) (Virgin)
6. Sleaford Mods – Key Markets (Harbinger Sound)
7. Sleater-Kinney – No Cities To Love (Sub Pop)
8. Young Fathers – White Men Are Black Men Too (Big Dada)
9. Courtney Barnett – Sometimes I Just Sit And Think, And Sometimes I Just Sit (Milk!)
10. Ibeyi – Ibeyi (XL Recordings)
11. Bjork – Vulnicura (One Little Indian)
12. Sweet Billy Pilgrim – Motorcade Amnesiacs (K Scope)
13. O'Hooley & Tidow – Summat's Brewin' (Hum)
14. The Front Bottoms – Back On Top (Fuelled By Ramen)
15. Thirty Pounds Of Bone – The Taxidermist (Armellodie)
16. Gilmore & Roberts – Conflict Tourism (GR! Records)
17. Ange Hardy – Esteesee (self-release)
18. Tom Williams – New Guitar / New House (self-release)
19. Tom Robinson – Only The Now (self-release)
20. Matt Creer – The Leeward Side (self-release)
Honourable mentions: in particular Mike Gale and Co-Pilgrim, who made three beautiful records (solo and band) sitting only just outside my top 20, so deserved to be in there on balance. Also Mairearad & Anna's gorgeous Best Day which was November's album of the month on my radio show. I also loved Decemberists, Paul Weller, Chvrches, Bill Ryder Jones, actually many others – so it was a big year; over 50 on my "pretty special" list.

SONGS
1. Savages – The Answer
2. David Bowie – Blackstar
3. Laura Marling – False Hope
4. Taylor Swift – Style
5. Kate Tempest – Europe Is Lost
6. Sweet Billy Pilgrim – Coloma
7. Will Varley – Talking Cat Blues
8. Sleater-Kinney – No Cities To Love
9. Louis Barabbas – You Did This To Me
10. Courtney Barnett – Pedestrian At Best

GIGS SEEN
I don't think it was a great year for gigs – I missed a bunch of things that I would've loved and also had a few unexpectedly disappointing evenings, to the extent that it took a fair while to even populate this list. But by the end it looks pretty strong and would challenge any year, I'm sure. Here it is…
1. Sleater-Kinney at the Roundhouse, London
2. Sweet Billy Pilgrim at Clwb Ifor Bach, Cardiff
3. Dan Friel at Mutations Festival, Hope & Ruin, Brighton
4. Fever Fever at Jen's Birthday All-dayer, Brixton Windmill
5. Ibeyi at Coalition, Great Escape Festival and Concorde 2, Brighton
6. Chvrches at The Dome, Brighton
7. Grace Petrie at The Good Ship, Kilburn, London
8. In Gowan Ring at the Dark Mountain book launch, London
9. Paul Goodwin, Annie Dressner at CB2, Cambridge
10. Provincials at Railway Inn, Winchester
11. Steven James Adams at Kings Place, London
12. Curtis Eller's American Circus, Tolpuddle Martyrs Festival
13. Thee Faction at the 100 Club, London
14. Helen Chambers at the Prince Albert, Stroud
15. Swan Steps at Westgate Chapel, Lewes
16. Matthew The Oxx at Midnight Campfire #3, The Brunswick, Hove
17. Billy Liar at Wee Red Bar, Edinburgh
18. Cartesian Jetstream at Gypo's gig for Syria, Old Friends Hall, Douglas, IOM
19. Woodland Creatures at Folk East Festival & JP Centre, Stowmarket
20. Attila The Stockbroker at #WeShallOvercome, The Greys, Brighton
belated note: Citizen Helene would probably be on this list for her set (accompanied by Jack Hayter) at my 9 Red Songs show. She's an incredible performer and her dry presence floats my boat – but on the night I was so stressed out by unexpectedly quirky venue madness, I didn't settle to focus on her. Just saying.

GIGS PLAYED
I've also had a peculiar 12 months tour-wise: though I made two new albums (so was, in a sense, productive) in fact neither had my songs on, so really it's a "between" year. I guess that's a healthy pattern – but looking back at the shows, they were haphazard and varied. Sometimes that's great and makes for a magic night, sometimes it's weird (or plain tragic) enough to derail me. Ultimately my existence as a live artist is precarious as ever.
Anyway, the same proviso as previous years: this category isn't judged on if I played my best, or if the overall night was good; it's about when I get the biggest buzz doing the show – which may be for wacky (or normal) reasons, so it's highly subjective. In 2015 I did 60 gigs, here's the list…
1. Brighton Green Door Store, short solo set / introducing Caroline Lucas
2. Tolpuddle Martyrs Festival, Hoodrats
3. Cheltenham Frog & Fiddle, Hoodrats
4. Worth Matravers, The Square & Compass, Gill & Chris duo show *
5. London, Kilburn Good Ship, DJ set for Grace Petrie's album launch
NEW 6. Warwick Wild Boar, solo show
7. Brighton Theatre Royal, short solo set for Big Green Comedy Gig
8. Cardiff Clwb Ifor Bach, solo set supporting Sweet Billy Pilgrim
9. Glasgow, Madeleine and Doug's flat, solo house show
10. Southend Railway Hotel, Thee Cee Cees debut gig
11. London, Highgate Red Hedgehog, 9 Red Songs 10th anniversary set
12. Douglas Old Friends Hall, Isle Of Man, crazy short solo set stood on a speaker
13. Cambridge CB2, solo show
NEW 14. accompanying Rufus Hound singing 'Resist The Tide' at Robin & Josie's Shambles
15. Edenfest, solo set
16. SC4M Festival, Winchester, Gill & Chris duo show
17. The John Peel Centre, Stowmarket, solo show
* not the morning after, though!

GIGS ON THE SMALL SCREEN
1. FKA Twigs at Glastonbury
2. Sleaford Mods on Later
3. The 6Music Prom: Nils Frahm and A Winged Victory For The Sullen
4. Yo-Yo Ma plays all six Bach Solo Cello Suites at the Proms
5. Against Me! at Reading Festival
6. Charlotte Church & Ligetti Quartet – This Bitter Earth at the Shell protests
7. D'Angelo and The Vanguard – The Charade on SNL
8. Lianne La Havas at Glastonbury
9. Patti Smith at Glastonbury
10. the first 10 minutes of Kanye at Glastonbury – then the rest sucked
11. Mary J Blige doing No More Drama at Glastonbury
12. Ezra Furman on Later
13. Drenge on Letterman
14. Waterboys do Purple Rain for Chris Evans on Radio 2
15. the Missy Elliott bit in Katy Perry's Superbowl performance

FILM
I haven't yet seen Spotlight, The Martian, Carol or Bridge Of Spies all of which could easily make my Top 10.
1. The Tale Of The Princess Kaguya
2. Brooklyn
3. Inside Out
4. The Lunchbox
5. Amy
6. 45 Years
7. Calvary
8. The Internet's Own Boy
9. Mad Max: Fury Road
10. CitizenFour
Honourable mentions: (new) Star Wars: The Force Awakens, A Girl Walks Home Alone At Night, Bitter Lake, Rosewater, Tracks, Ida

TELEVISION
An absolutely blinding year for TV and also this year I discovered Twitch.tv and got obsessed with survival games like Arma III and especially the launch of Ark Evolved. By the way, I've fallen behind with The Walking Dead and not yet seen this year's episodes, otherwise it'd certainly be in here somewhere. Ditto Jessica Jones…
1. Wolf Hall
2. Adventure Time
3. ShroomzTV and Kiwo adventure in Ark Evolved on Twitch.tv
4. Avatar: The Last Airbender / The Legend Of Korra
5. Last Week Tonight with John Oliver
6. Fargo
7. How To Be Bohemian with Victoria Coren Mitchell
8. The Bridge
NEW 9. Charlie Brooker's 2015 Wipe
10. Survivor Gamez VI on Twitch.tv
11. The Good Wife
12. Sense8
13. Better Call Saul
14. Broad City
15. Unreal
16. Chef's Table
17. ShroomzTV plays Arma III BR on Twitch.tv
18. Louie
19. Inside The Commons
20. The Unbreakable Kimmy Schmidt
21. Master Of None
Honourable mentions for Grace & Frankie, Lirik playing Arma III BR on Twitch.tv, Planet Oil, Charlie Brooker's Wipe, Jacques Peretti's The Super-Rich And Us and The Sound Of Song.
As a gigging musician, it's hard to maintain our supposed default position (criticising people for staying home and watching telly instead of going to live shows) when the best television at the moment is so damn incredible. How many rock bands offered as good an hour as Billy Bob in Fargo? And yeah, maybe we aren't watching "scheduled" telly anymore but there are still only so many hours (and quids) in the day, so I can honestly totally understand people prioritising television over a gig.

ART
1. Homemade street art tour and Eastside Gallery, Berlin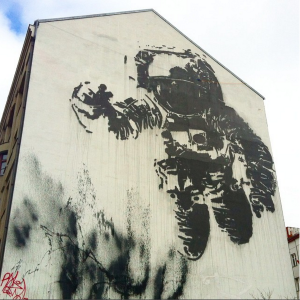 2. Menashe Kadishman Shalekhet ('Fallen Leaves') at the Jewish Museum, Berlin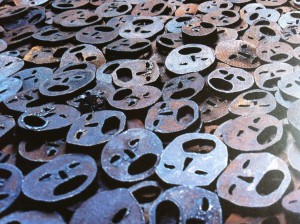 3. Show Me The Money at the People's History Museum, Salford
4. Lea Porsager Cut-splice Supercluster at Kunstlerhaus Bethanien, Berlin
5. Permanent collection at the People's History Museum, Salford
6. Permanent collection at Mauermuseum, Checkpoint Charlie, Berlin
7. Sam Hewitt paintings at the Dynamite Gallery, Brighton
8. Libeskind Memory Void and architecture of the Jewish Museum, Berlin
9. Jeremyville at Castor & Pollux, Brighton
10. Various Boys And Their Toys and Olaf Kühnemann Paintings, A4 and some things at Kunstlerhaus Bethanien, Berlin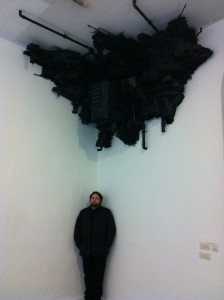 BOOKS
1. Ta Nehisi Coates – Between The World And Me
2. Various – Dark Mountain 8: Technê
3. Kazuo Ishiguro – The Buried Giant
4. Robert MacFarlane –  Landmarks
5. Sunjeev Sahota – The Year Of The Runaways
6. Molly Crabapple – Drawing Blood
7. J.B. Morrison – Frank Derrick's Holiday Of A Lifetime
8. Paul Mason – PostCapitalism: A Guide To Our Future
9. Miranda July – The First Bad Man
10. Patti Smith – M Train
11. Carrie Brownstein – Hunger Makes Me A Modern Girl: A Memoir
12. Jon Ronson – that one about shaming on the internet
13. Peter Thiel & Blake Masters – Zero To One
14. Frederique Laloux – Reinventing Organisations

ESSAYS / BLOG ENTRIES
1. Oliver Sachs: My Own Life, New York Times
2. Dougald Hine: The Only Way Is Down – 18 Notes On The UK Election, blog entry
3. Ella Risbridger: various essays and Eating With My Fingers blog entries through 2015
4. Katy Waldman: There Once Was A Girl, Slate
5. Anne Thériault: Being A Girl – A Brief Personal History Of Violence, The Belle Jar
6. Jazmine Hughes: How Many White People Does It Take To Ruin A Good Joke?, New Republic
7. Ta-Nehisi Coates: King David, The Atlantic
8. Jason Cherkis: The Lost Girls, Huffington Post
9. Adrian Chen: Unfollow, New Yorker
10. Sarah Maslin: The Price Of Nice Nails, New York Times

THEATRE / SPOKEN LIVE PERFORMANCE
1. Caroline Lucas at Green Door Store
2. John Willshire – Metadesign For Murph at dConstruct
3. Stewart Lee – Much A Stew… at Brighton Dome
4. Ingrid Burrington – Come With Me If You Want To Live at dConstruct
5. Big Green Comedy Gig, Brighton Theatre Royal (Mark Steel, Robin Ince, Jeremy Hardy, Fran Martinez etc.)
NEW 6. Radio: Future Sounds Conference at Patterns, Brighton
7. MJ Hibbett & Steve – Hey Hey 16K at Caroline of Brunswick
NEW 8. Holly McNeish reads her poetry at Robin & Josie's Shambles
9. Tom Crompton discusses No Cause Is An Island – Skype roundtable at Neo strategy meet-up
10. Tessa Cooper informal talk at Dare Conference evening event
11. Mark Stevenson – Up For Grabs at dConstruct
12. Andy Lewis DJ set at the Railway Hotel, Southend
13. Elmi Ali, Christina Fonthes poetry at Still Howling, The Wonder Inn, Manchester
NEW 14. J. B. Morrison book launch at Bookseller Crow, Crystal Palace
15. Various short pieces at Dark Mountain book launch for Technê.
16. Bob Miller, Ruth Keggin, Matt Creer round-table panel at GuitarFest, Isle Of Man
17. Matt Novak – A Brief History Of Tomorrow at dConstruct
18. Dan Hill – The City Of Things at dConstruct
PODCASTS / SPOKEN AUDIO
1. Longform – especially Jazmine Hughes, Ira Glass, Jess Hopper, Karina Longworth
2. Brian Eno gives The John Peel Lecture, BBC6Music
3. Kermode & Mayo's Wittertainment
4. In Our Time, BBC Radio 4
5. Slate Political Gabfest
6. Hippy Internet: The Whole Earth Catalog, Sukhdev Sandhui, BBC Radio 4
7. Slate Culturefest
8. Radiolab
9. Eddie Argos interviews Ezra Furman for Talkhouse
10. This American Life
11. Serial Season 2, first couple of episodes
12. Stephen Fry at Hay Festival
13. NPR's Planet Money
14. Soul Music, BBC Radio 4
15. Fresh Air interviews – especially Hilary Mantel, Carrie Brownstein, Patti Smith

EATING
1. Sala Da Mangiere, Neuköln, ravioli
2. my spinach, cheese and mushroom crepes with garlic, chilli and cream
3. Terre A Terre, Brighton, vegetarian dinner
4. Kasbah, Mittel Berlin, Moroccan tegine
5. Gallery B&B, Thirsk, Kathryn Collington's veggie shepherds pie and veggie breakfast
6. Carlito Burrito, Brighton, halloumi tacos, mole negro on the side
7. Coco Liebe, Neuköln, Turkish avocado salad pide
8. Madeleine Rooney's lentil soup and mulled cider
9. The Wolfhouse Gallery Kitchen, Silverdale, Mark McCabe's scrambled eggs
10. learning to make tortilla
11. Angry Chicken, Kreuzberg, bimblebot and veggie burger
12. Flat above the Prince Albert, Stroud, einkorn wheat pita and pasta (both times)
13. Moksha Café, Brighton, breakfast with their homemade hash browns
14. Gill Sandell's jacket potato, triggering jacket potato spring
15. Moshimo vegan duck teriyaki

DRINKING
1. Five Elephants light roast Brazilian coffee filtered at Prachtwerk, Neuköln
2. pourover at Coffee@33, Brighton
3. Ben Murray's martini
4. Smallbatch limited edition filter
5. martini (lemon twist) at The Townhouse, Falmouth
6. filter coffee at The Wolfhouse Gallery Kitchen, Silverdale
7. Presuming Ed's Americano, Brighton
8. my homemade bloody mary
9. Spanish hot chocolate at Solera Restaurant, Brighton
10. iced pourover at Pelicano, North Laine, Brighton