Finally it's here… Gill Sandell and I have talked about making a record for five years and it cemented into a plan when we toured together with Emily Barker late 2013. Last autumn we did it. It's called Walk Away, Walk Away and we love it.
It's out on Mon 23 March on Gill's label Rowan Tree Records. Pre-order today and you get an immediate download of 'Birds', our cover of the Neil Young classic. You can also hear that song on the Bandcamp page here, or check it out on YouTube.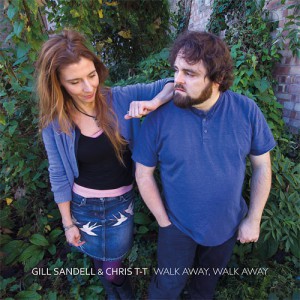 Walk Away, Walk Away includes songs by artists as diverse as Joni Mitchell, Yeah Yeah Yeahs, Willie Nelson and Voice Of The Beehive. After originally planning a trad folk record, we've ended up making a themed collection of classic and modern songs, in a folk/slowcore style. Actually, the moment it dissolved into sharp focus was in Hamburg, in the apartment of Digger Barnes at about 2am, drinking his astonishing Venezuelan rum.
We taped it at Reservoir Studio in north London, the HQ of Danny & The Champs and many other UK Americana legends, plus the studio where Billy The Kid made her terrific Xtra Mile album Horseshoes & Hand Grenades). It was engineered by Union Chapel's head sound engineer (and wall-of-amps genius) Les Mommsen, then edited and transferred by Crawford Blair (who also took our sleeve and press photos in Gill's back garden) and finally mixed by our old travelling companion Jon Clayton at One Cat Studio.
We're playing a London album launch show on Feb 20 at King's Place with support from another long-time ally, Steven James Adams, followed by a (very select) bunch of UK shows between Feb and April. Here's the full track listing. See which songs you recognise…
Gill Sandell & Chris T-T
Walk Away, Walk Away
01 Time Of The Preacher
02 Tomato In The Rain
03 Birds
04 Runaway
05 Cactus Tree
06 If I Should Fall Behind
07 I Walk The Earth
08 Autumn Seed
09 500 Miles
10 Hit The Ground Running
11 Lonely Street