LYRICS: Idris Lung
The first taste of our new LP is the song 'Idris Lung' because it's included on the new Xtra Mile label comp Great Hangs. Here's the lyric and at the bottom a bit of an explanation.
'Idris Lung' by Chris T-T
Breathe in smoke through the Idris lung
Nothing we say can ever be undone
You stare at a face you will end up hating
Gutless transparent and asphyxiating.
Sitting in a circle the angels came
They slowed down time, they stole your name
Colours in the sky: shame and fear
You're so fucking high it's crystal clear:
You wanna be an atheist but you're not
You don't wanna believe but it won't fuck off
Breathing smoke through the Idris lung
Nothing we say can ever be undone.
  We disarm your defences
  We're in command of your senses
You're Michael Caine in Children Of Men
You were cool for a while but you died in the end
We're watching television with a gallon of wine
And we make all our money playing cards online
Yours was the face that you ended up hating
Gutless, transparent and out-of-breath
But we're breathing smoke through the Idris lung
And we're not giving up til there's nobody left
We're not giving up til there's nobody left
We're not giving up til there's nobody left.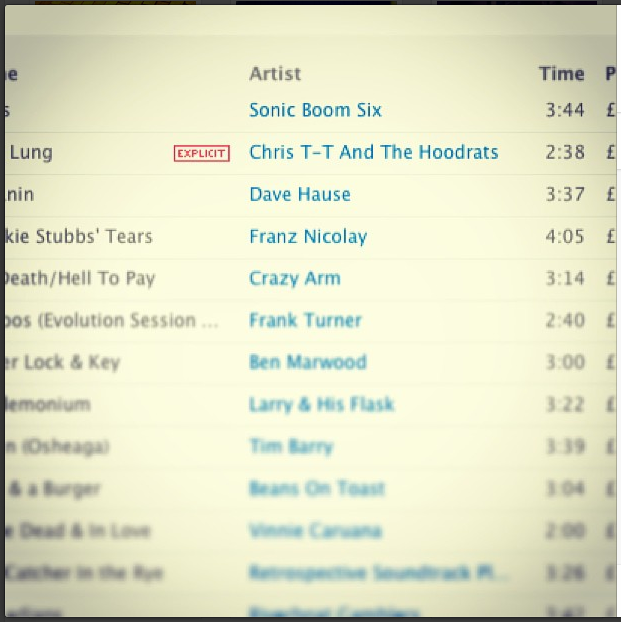 This lyric is about a moment of clarity that only comes when you're very stoned. An 'Idris lung' is a lung (for inhaling pot) made out of an Idris brand 2 litre plastic fizzy drinks bottle. Magoo used to make them all the time. Back in 1996 I wrote a song with the same first two couplets and keyboard riff – it was my first 7″ single in 1997 but I haven't been able to refer back to it (was a 4 track home recording) because I can't listen to the vinyl, so I have no idea how similar or different this sounds. It's very much a new song at heart, though: it was mostly inspired by being high in a motel room in Joshua Tree a few years ago and looking in a mirror and seeing what I look like to others, for maybe the only time ever, which was a CRAZY (wildly odd, horrific) moment that I've never forgotten.
Unusually, I've had no feedback about what people think of it, maybe because musically it's (deliberately) a curveball / dislocating first taste for a new T-T album, very different from what people may have heard before. Maybe people hate it and that wouldn't necessarily be a bad thing. I love the collective vocal (Hoodrats sing the whole song not just me) and I love the beats-heavy ness of it. I love the sense in which the collective voice of the universe slaps down the individual narrator, at his most vulnerable, high as a kite. Also Jon Clayton's keyboard effects solo after the explosive bit is immense. It makes me think a tiny bit of 'Flame' by Sebadoh. Sorry about the Children Of Men spoiler by the way – but that's an old enough, great enough film that you should've seen it by now.
A couple of people have pointed out that calling the new album The Bear when it's so dark / sweary / alt-rock could be funny for listeners who've only discovered me through the A.A. Milne stuff. Let's embrace that potential as a great one!
So, I've not yet had a single response – and even the band were a bit iffy about 'Idris Lung' because we constructed it, rather than us playing it live like so much of the new album, so I hope people are as bemused as I think they are, rather than just hating it on first listen.